Walking on a vineyard you always wonder what kind of wine will come out of this land. These lines allow you a first approach.
I am looking for a wine to serve with aperitif
If you are looking for a wine to be drunk chilled with appetizers savory preparations, the soil does not matter very much. Indeed, the vines used to develop this type of wine will be harvested early to retain aciditymaking them very pleasant to drink fresh. Even if the soil is not essential, it is unlikely that this type of wine from a dry soil (or just for young vines that were harvested early to not disturb the rooting).
For aperitifs, the vineyards with moist soil or lands to horticulture will certainly do your happiness.
I want a good aromatic wine for dinner
If the vines harvested early do not pose sanitary problems it's different for the maximum aromatic maturities. This maximum maturity is more difficult to obtain with heavy soils (horticultural soils wet), simply because the maturation lasts longer. For these soils a long ripening grapes exposed longer to rain and phytosanitary risks. Wet soils have high yields, which do not normally give quality. Nevertheless, the training system and the density of planting can greatly reduce the yield per vine, and at this moment you'll have a wine of quality.
You can find good wines in all soils. Nevertheless, arrides soils are often associated withlow yields and a good aromatic potential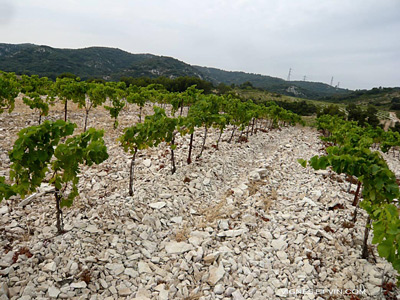 Some clues
Chardonnay thrives on calcareous soils with a slow maturation;
Cabernet Sauvignon prefers soil a little warmer and more acidic causing a rapid maturation which can then be pushed to the maximum;
Merlot has an optimum maturity that you should not exceed, under penalty of a loss of aromatic quality very fast (in my experience in the south, I got the best results in calcareous soils of Garriques (a special soil in the South of France).
Carignan and Cinsault like acid soil (eg Corbieres).
In short, the quality of wine can not be determined solely from the ground but it strongly influences the maturation of the grapes and thus its flavor.

{jacomment on}