This part is beyond the scope of wine tourism and is aimed at people who want to learn.
Photos and videos will be your memory
Select the vines demand to know them well throughout their growth. For this we must carry out audits.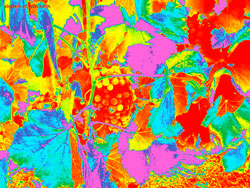 Until recently the audit of vineyards made by filling in forms with the same criteria for each vine. The advantage of this system was able to follow the vine on some points from year to year. The major drawback being that the person writing the form is almost never the person who carry out the audits and it still always lacks essential elements. Solve this loss of information is now very easy. With the increase of computer memory and the digital cameras you will keep all informations you give yourself the trouble of photographing. Information is much better synthesized on a image and does not use vocabulary sometimes uncertain.
These digital cameras are cheap (around 300 euros with a spare battery and a second memory card, prices in France). Personally, I take some pictures and I record the visit of the vinyard. Thus, after several weeks I did not need to try to read my writing clumsy on field forms where I have not noticed everything. In addition, with the sound I can also listen to comments of grower who participated in the visit. The advantage is to avoid any dispute.
For exemple : if you have to : notice the arrangement of clusters, the advance of ripening, the foliage color, the arrangement of vines, evaluate the vigor, describe the soil, and estimate the harvest. It takes at least 10 minutes in addition to the visit to write everything down properly. In addition, on the field it's hot or cold and sometimes windy. It's really hard to remember everything and fill in forms on the ground. With a video of 45 seconds everything is noted. Now, you just have to write a global estimation that summarizes your feelings, the details are well preserved in the video :

Conduct audits of vines without taking pictures or videos was the source of disputes and misunderstandings.This is not a modern method. Ask the quality manager how he keeps the information taken from the vineyard. You will be surprised by the lack of rigorous methods.