Terraces of the tarn, AOC Fronton: The only wines made from grapes Négrette, in one of the oldest vineyards of France (fifth century).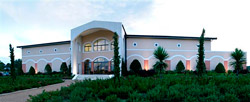 Located north of Toulouse Château de Cransac is a vineyard from AOC Fronton. The wine tourists will be delighted to discover wines that are alone in the world to be produced mainly from the grape variety Négrette (with very special aromas). Château de Cransac date of the seventeenth century and its history will satisfy lovers of wine tourism history (Contact).
Clic on the pictures to enlarge.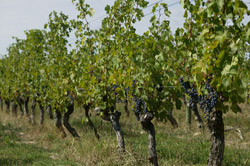 Respect of the environment, specifications Terra Vitis
Cultivating the grape variety Négrette requires much attention and expertise. While this variety is not grown elsewhere it is mainly because his culture requires much more vigilance than any other grape variety. As a reward, wine tourism lovers find wines with unique flavors. the Château de Cransac makes a point of honor to meet the standards of sustainable development with a reasoned culture, the control of yields and an optimal maturity. The castle joins a quality approach Terra Vitis®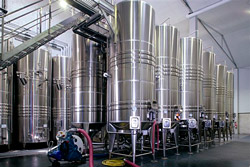 Wine tourism at Château de Cransac
The Castle is open throughout the year for the tasting of wines made from Negrette (rare grape variety of Fronton). With the guided tour of the cellars, you will understand the use of our fermentation tanks "Ganymede" and our specific know-how.
Landscapes and museum
You can also visit our museum of old tools. Also visit our vineyards by bike or on foot, you will appreciate the richness of our ecosystem.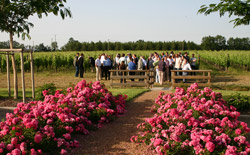 Receptions and oenological courses
The Cransac Castle is also a place of learning. Courses are proposed on wine and food tasting initiation (by appointment). We provide you with 900m ² of reception, welcoming groups from 8 to 350 people for business seminars or family receptions.

Contact: SCEA Domaine de Cransac-Château Cransac, 1020 chemin du Cotité - 31620 FRONTON - BP 61 France; This email address is being protected from spambots. You need JavaScript enabled to view it.. Web site: www.chateaucransac.com phone: 00 33 (0)5 62 79 34 30 et fax: 33 (0)5 62 79 34 37 our FaceBook page: Château Cransac.