Chateau l'Hospitalet: AOP Coteaux du Languedoc , La Clape, 82 hectares in a limestone overlooking the shores of the Mediterranean Sea, a legendary site full of history: Great wines and history for wine tourism.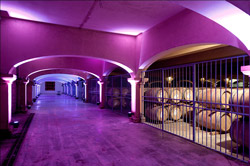 The first Greek settlers arrived on the island of Clape 25 centuries ago. It is for this reason that the place is regarded as the true birthplace of the French vineyard. L'Hospitalet is first property of the monks, who grew vines. It was in 1561 that will be made the first mention of the name "Hospitalet".
Group headquarters of Gérard Bertrand, owner of 7 famous wineries in the South of France, elected « Meilleure Maison de Vins de l'Année » by the ""Wine Enthusiast", the Château l'Hospitalet consists of of 82 ha in a property that has everything conford for wine tourism. (Contact).
Click to enlarge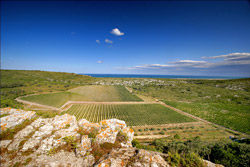 The Château l'Hospitalet: cultivation and vinification method
Act for the preservation of the environment (sustainable development standards) is a central concern of the group Gérard Bertrand, it's for this reason that the Château l'Hospitalet has been called Carbon Neutral Domain (pdf in french) by CNRS (french research center).
Soils and Mediterranean vineyards
From its conception, the vineyard has been designed to achieve a high level of quality (North South orientation, trellis high wooden picket and choice plots). Two soil types contribute to the wine's complexity and elegance: the chalky soil at the base of the cliff, is rich in fossils and gives the vine a constant supply of water throughout the summer despite the absence of summer rains. Mediterranean red soil formed on limestone bluish gray compact allows the development of rich, concentrated wines. The yields are moderate, handpicked with optimum ripeness.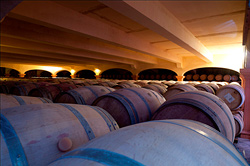 Vinification
The différents grape varieties (whites: bourboulenc, vermentino and grenache blancs; reds: syrah, grenache and mourvèdre) are vinified separately, in the traditional manner. At the end of winter, the wines aged in French oak barrels for a minimum of 12 months.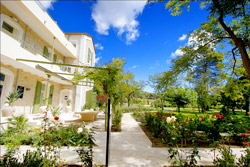 Jewel of wine tourism in Languedoc Roussillon
The Château l'Hospitalet, it is also a complex unique in the Languedoc wine tourism. More than a wine estate, the castle consists of a charming hotel ***, member of the "green key", a restaurant run by Patrick Juhel, Meilleur Ouvrier de France, a tasting room and craft shops.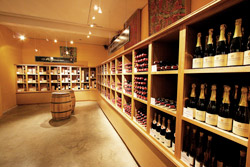 The Mediterranean Lifestyle is showcased in this magical place:
The grape harvest festival in Autumn
The feast of the prunning and of the truffle in Winter
The feast « Art de Vivre, Vivre l'Art » Spring
The Jazz Festival in Summer
See our events on the facebook page: WINE & JAZZ live au Chateau l'Hospitalet
Come and stay at Château l'Hospitalet in October and enjoy the great moments of the grape harvest in Languedoc !
You dream to discover the excitement of grape harvest for a few hours or the time of a unusual weekend? Participate with your family or friends in the harvest of Château L'Hospitalet, Narbonne ! Download all details here
Some examples of the program
Jazz concert dinner in the restaurant of the Château
Exploring the terroir and climate of the Clape, grape harvest and tasting
Guided tour of the Abbey Fontfroide
Vinotherapie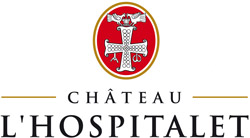 Contact: Château l'Hospitalet, Route de Narbonne plage, 11100 Narbonne, France.This email address is being protected from spambots. You need JavaScript enabled to view it.. Website: www.chateau-lhospitalet.com phone: 04 68 45 28 50 fax: 04 68 45 28 78 our FaceBook page: WINE & JAZZ live au Chateau l'Hospitalet