Mediterranean Seigneurie de Peyrat: wine tourists interested in history and wonderful wine estate will be delighted to visit our winery.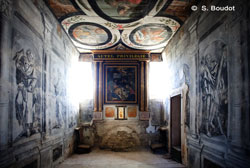 Located at Pézenas, on the way to "Roujan", at the junction of "Alignan du vent", rises a large house of charm, a villa dating from the Gallo-Roman. Family owned for six generations, this sumptuous Lordship of the XVII century houses a small chapel from 1645, with camaieu painting of the apostres Contact).
Clic to enlarge.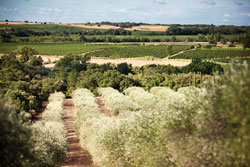 The exceptional terroir of the domain of Peyrat
Today, the estate covers 200 hectares, with 120 hectares of vines, olive trees and guarrigues. Famous grape varieties such as syrah, grenache, carignan, merlot, cabernet, san giovese, cinsault and pinot noir for the red wines, sauvignon, viognier, colombard, vermentino, chardonnay for the white ones have been selected and are blooming on this fabulous terroir (clay and limestone / villafranchien soils). Respecting environment and searching for high quality; this is our daily guideline.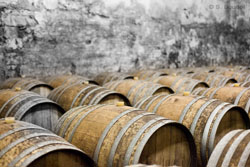 Wine tourism
Visit the cellar, discover the vineyards and enjoy a unique experience in the wine cellar where there is an atmosphere of a cathedral. Enjoy with Yann, the winemaker who is passioned by wines, a great time of friendship during which he will reveal to you his secrets of wine making, assembling and aging wine.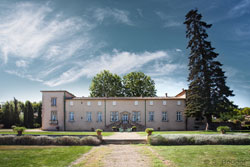 For a perfect food and wine pairing, go for a lunch or a dinner at the Distillery Restaurant, located in Pézenas, close to the heart of the city which is well-known as the city of Molière.
You will be welcomed at the cellar to make a wine tasting or to buy bottles of wine from Monday to Friday: 10am to 12:30 and 14:30 to 18:30. To make a visit, please take an appointment in advance: +33(0)4 67 24 67 06
Wines of Peyrat
Through its collection of wines, the Seigneurie de Peyrat invites you to discover its unique universe :
The South noble and elegant with the range Seigneurie de Peyrat;
The South varied and distinguished with the range Domaine de Peyrat;
The friendly and delicious South, with the range Noble Plaisir;
Contact: Seigneurie de Peyrat, Route de Roujan - 34120 Pézenas - France - This email address is being protected from spambots. You need JavaScript enabled to view it.. Coordonnéés GPS : N 43° 27' 86 '' E 003° 21' 98" Web site: depeyrat.com phone: 00 33 (0)4 67 24 67 06 , FaceBook page: Seigneurie de Peyrat
Find the author of the article on her blog Danslesvignes