Champagne Dom Caudron: At the heart of the Marne Valley, in PASSY-GRIGNY, The Confidences de Dom Caudron reveal their secrets. A paradise for wine tourism.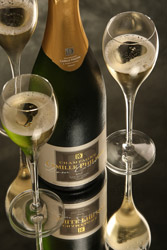 This is the Abbot Caudron, Epicurean champagne lover, who offered 1,000 francs in 1929 for wine growers of Passy-Grigny so they base their cooperative and value their grapes. Their field is now 130 hectares and helps put together a champagne revealing the richness of this terroir, through a blend of high quality.
In addition to this quality research The Confidences de Dom Caudron offer many activities for wine tourism: tastings, tours, video, museum and animation(Coordonnées).
Click on the pictures to enlarge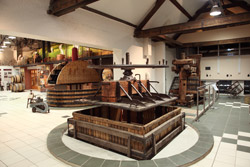 Foremost the quality of Champagnes
A quality manager and a viticole technician are employed by the wine Champagne Dom Caudron to ensure the quality of grapes and champagne. These measures respond and add to the specifications of very demanding of AOC Champagne (standards of sustainable development, reduced inputs and controlling risks to health and the environment). For wine tourism it is the assurance that quality of champagnes comes first.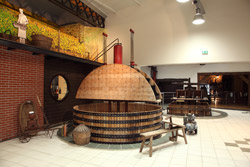 A fascinating journey to learn all about the vine and the production of champagne
Museum and animations
The tour begins with Museum where we discover many tools from the last century, and a press of 400 years. Our Eco-museum becomes animated during harvest with the restart of an old press, visitors can if they wish, taste freshly pressed juice.
Exposures
We welcome exhibitions (paintings and photographs), artisans (barrel makers ...), concerts etc..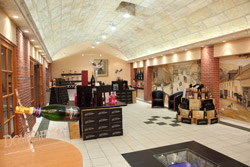 Movie, pressing center and winery
We continue the visit with the pressing center, its automatic loading and 3D photo gallery, before discovering the movie on the work of Vine and Wine by Andre Dussollier.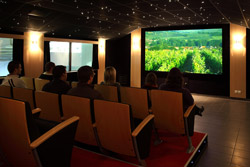 Then, visit to the winery from a gateway to a height of 6 meters. The tour ends with a tasting of two flutes of Champagne Dom Caudron.
Openings and Prices
The Confessions of Dom Caudron are open Monday to Friday (except Tuesdays) from 10am to 12pm and from 14h to 17h, Saturday and Sunday (only from April to December) from 11h to 13h and 14h to 17h.
7€ per adult (over 12 years) with two tastings (+ 18 years old) to choose from our range DOM CAUDRON;

Free

for children under 12 years;

Groups

from 15 people : 5€ per adult.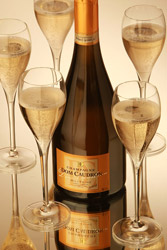 Our Champagnes
Enter the world of an exceptional champagne revealing the richness of its soil, with good blending where passion and tradition combine to create DOM CAUDRON.
Gilbert and Gaillard édition 2013;
International Wine Competition Madrid: Bacchus 2012 - Silver Medal;
International Wine Competition Madrid: Bacchus 2012 - Gold Medal ;
FLAVOURS FROM FRANCE - ENGLISH ;
Veron Guide;
Le Guide d'achat des vins et spiritueux;
Gilbert and Gaillard 2012.
Find details (downloadable pdf) of our awards on the official page of Dom Caudron Awards.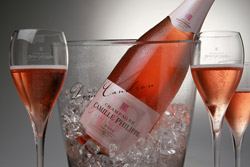 Contact: Confidences de Dom Caudron, Rue Jean York, 51700 Passy-Grigny, Champagne-Ardenne, France.This email address is being protected from spambots. You need JavaScript enabled to view it.. Website: www.domcaudron.fr phone: 00 33 (0)3 26 52 45 17 our FaceBook page: Champagne Dom Caudron Twitter @DOMCAUDRON