Champagne Dérouillat : Founded in 1929, this house brings together three Champagne grape varieties on varied terroirs: diversity for wine tourism.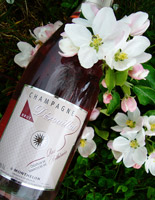 Founded en 1929, the Champagne Dérouillat includes the three grape varieties of champagne on varied terroirs ("Côte des Blancs" and hillsides south of Epernay). This richness and diversity characterize their blends. The Champagne Dérouillat is a family that combines the traditions of the Champagne region (traditional press) to new winemaking techniques (stainless steel tanks, air-conditioned cellars), which allows to control all stages of the development of champagnes in optimal conditions (cf.Contact).
Clik on the pictures to enlarge.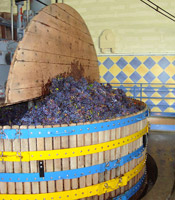 Sustainable development and methods of reasoned vine growing
The champagne Dérouillat is harvesting-winemaking and adheres to Champagnes de Vignerons (cultivation and wine making on the exploitation). The oenotouristes will be delighted to discover methods of cultivation combining reasoned viticulture and sustainable development. For example : since 20 years fertilizers are replaced with composted algae; a tank used to collect all wastewater not to reject the wash water in nature. 80% of the vineyard is grassed to promote soil biodiversity and limit erosion. A vineyard worthy of the interest of wine tourism.
Many events for wine tourism (English is spoken)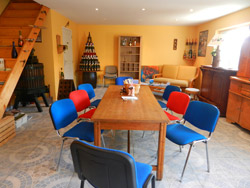 The Champagne Dérouillat welcomes you from Monday to Saturday from 10h to 12h and 14h-18h (Closed Sundays). Receiving group by bus all year round (reservations): visit the cellars and vineyards followed by a tasting of champagne and a typical Champenois meals . For more information cf.Contact
Summertime meetings
Weekend after July 14: walk through the vineyards to discover our terroir, foie gras, apricot of the Drôme, wine, painting objects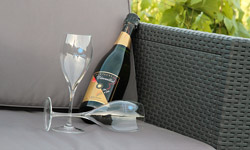 Portes Ouvertes
First weekend in December: fifteen exhibitors are there to show you products such as foie gras of the Tarn and Garonne, the oysters from Marennes Oléron, ham and Comté of Doubs, Jura wine, the Pouilly Fuisse, wines from St Emilion Puisseguin, paints and jewels
At each event, a great dance party is held on Saturday evening with a gourmet meal and champagne to accompany these pleasant moments with dignity.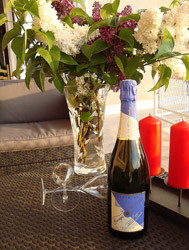 Our work rewarded
Here is a ranking of our greatest rewards
Champagne Georges-William

: Gold Medal at the Concours Mondial de Bruxelles 2011, Gold Medal Guide Gilbert et Gaillard 2011, Silver Medal at the International Wine Challenge 2012;

Champagne «L'Esprit» Blanc de Blancs 1er Cru

: Gold Medal at the Concours Féminalise 2011, Gold Medal Guide Gilbert et Gaillard 2011, Citation in the Guide Hachette des Vins 2012, Silver Medal at the International Wine Challenge 2012;

Champagne Rosé «Arthémia»

: 84/100 in the Guide Flavors From France, Citation Guide Hachette des Vins 2012, Bronze Medal Contest Féminalise 2012;

Champagne « Cécile » Millésime 2004

: 1 star in the Hachette Wine Guide 2012;

Champagne « Fanette » Millésime 2006

: 90/100 Gambero Rosso.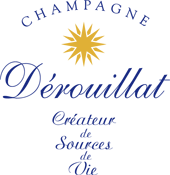 Contact: Champagne Dérouillat, 23 rue des Chapelles - 51530 Monthelon - France; This email address is being protected from spambots. You need JavaScript enabled to view it..
Official web site: www.champagne-derouillat.fr.st
téléphone: 00 33 (0)3 26 59 76 54 fax: 00 33 (0)3 26 59 77 27 our FaceBook page: Champagne Dérouillat.