Champagne Gonet, a family domain for 7 generations: the wine tourists will discover a house that is part of French heritage. Wine tourism lover of Chardonnay and Vintages will be pleased to visit wineries located in the heart of the Côte des Blancs and discover products made exclusively in the domaine.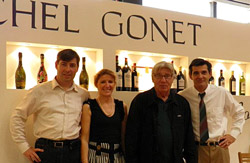 Located in the famous Côte de Blancs, the Michel Gonet Champagne house was founded in 1802 by Charles Gonet. 7 generations will follow to make the domain prosper. In 1973, Michel Gonet takes the family institution. The caves are enlarged and modernized, the vineyard has 40 hectares of which a portion disposed on the best terroirs of Champagne: the « Grand Cru » and his children are ready at the end of the eighties to regain the succession! This is his daughter: Sophie Signolle which resumes with the same passion the keys of Champagnes Gonet.(Coordonnées).
Click on the pictures to enlarge.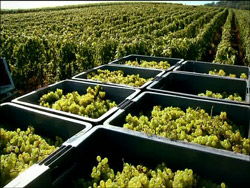 A full philosophy
The Champagne Michel Gonet claims to be a Vigneron indépendant (production, winemaking and marketing by the owner),it is a proud producer of its champagnes Grand Cru and a protector of its terroir (sustainable development). For this, it pledged to practice the reasoned agriculture (no intensive treatment, the practice of sexual confusion, weed infestations of vineyards, or use of bark on the soil).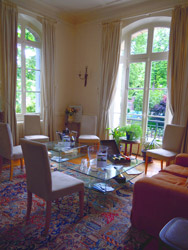 A historical region to discover for the wine tourism
2 places are available for you to discover ours Champagnes. Join us in Avize in the heart of the Côte des Blancs to visit our cellars and discover our wines (open Monday to Friday from 9am to 12.30 and 13.30 to 17 (weekends by appointment)).Besides, join us at 37 Avenue de Champagne in Epernay for a a complete tasting of ours vintages and of ours Blancs de Blancs Grand Cru.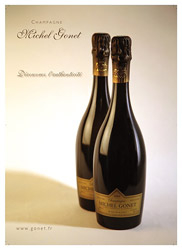 Contact: (1)Champagne Michel Gonet (cellar and tasting), 196 Avenue Jean Jaures - 51 190 Avize - France; phone: 00 33 (0)3 26 57 50 56 (2)Champagne Michel Gonet (tasting)37, Avenue de Champagne, 51 200 Epernay - France; phone: 00 33 (0)3 26 54 39 29 . E-mail: This email address is being protected from spambots. You need JavaScript enabled to view it.. Web site: www.gonet.fr our FaceBook page: Champagne Gonet.