Morgon AOC, Fleurie AOC and Moulin à Vent AOC, Château de Bellevue. A complex dedicated to wine tourism in the heart of the Beaujolais vineyards.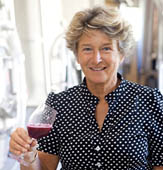 With a winery completely renewed in 2010, the Château de Bellevue offers to wine lovers to stay in the heart of the Morgon appellation.The chateau de Bellevue is the former home of the famous Lumière brothers and Mademoiselle de Chateaubriand, wife of the Russian prince Lieven. In addition to the quality of the wines of the Morgon AOC, the wine tourists benefit of historic sites, a natural park, guestrooms and apartment in the castle, entertainment and tours etc.(Contact)
Click on pictures to enlarge.
Vinification which respect the terroir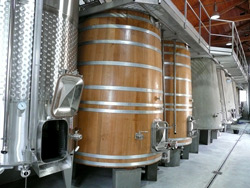 Each terroir is vinified separately
In total, the Maison Loron vinifies 22 hectares of vines in three appellations: Morgon AOC (our Chateau de Bellevue), Moulin à Vent AOC and Fleurie AOC. These 22 hectares are harvested by hand to meet the aromatic maturity of each area.
8 hectares in Morgon AOC
The two hillsides (sandy clay), facing south, provide distinct characteristics: the place called les Charmes has a manganese content which gives a remarkable typicality. It is complemented by a more filtering soil (gravel) of the Clos.
Burgundian winemaking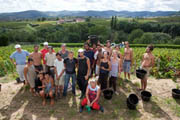 Grapes are sorted out directly in the vineyard and then at the winery on a sorting table.. The grapes are gently destemmed to avoid crushing the berries. The berries are then gently introduced into the vats with lift. Maceration can last up to 30 days: Burgundian winemaking. A part is aging in oak barrels.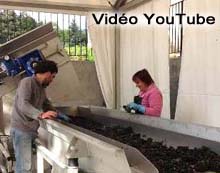 Click on pictures to enlarge.
Wine tourism at Château de Bellevue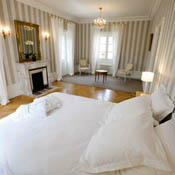 Wine tourism lovers will stay in the heart of the vineyards of the Château. We are labeled Gîtes de France and Charmance.Visitors can choose between guestrooms or apartment in the castle
Activities for wine tourism
The exceptional microclimate of the appellation prompted the original owner to create a unique romantic park of more than 3 hectares. This park is a refuge for species, of fauna and flora, unexpected in the region.
There are many activities for wine tourism: The historical Beaujolais, Maconnais and Cluny, Burgundy history or hiking etc.. Check out our page dedicated to tourism.
Cellar tour and tasting with our winemaker (access for disabled people). A small shop allows the purchase of bottles of the domain.
Tasting 3€ per person and

free

if followed by purchase of at least 1 bottle;
Open from monday to saturday (Sunday on reservation: 00 33 (0)4 74 66 98 88 );
Reception of groups by appointment.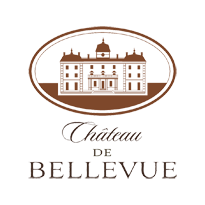 Contact: SNC LES DOMAINES JEAN LORON, Château de Bellevue, Bellevue 69910 Villié-Morgon, France.This email address is being protected from spambots. You need JavaScript enabled to view it..
Official web site: www.chateau-bellevue.fr Phone: 00 3 (0)4 74 66 98 88