Rhone Valley Hermitage AOC, M. Chapoutier: allowed to develop the flavors of the terroir. For wine tourism it is a guarantee to taste outstanding wines.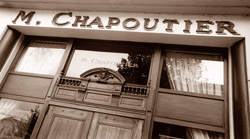 Since 1808, Maison M. Chapoutier cultivates his vineyards in the greatest respect the natural balance and terroir. Since 1990, Michel Chapoutier is the head of an exceptional vineyard.Michel Chapoutier vineyards offer a diversity beneficial to wine quality: 240 ha in the Rhone Valley, 34 acres on the hill of Hermitage, but also in Roussillon, Alsace and abroad: Australia, Portugal(Contact).
Click on pictures to elarge.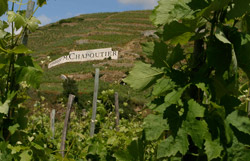 A terroir exalted by its cultural methods
Winegrower, winemaker and wine lovers. Since 1991 ... 1st biodynamic crops put in place. Leader and pioneer in biodynamics. Objective: to leave the soil the greater freedom of expression. The quest for the house: Let the word to the soil, is to express the ground and also - and especially - the vintage. His integrity should not be corrected.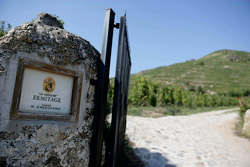 A symbol of openness: language Braille labels
Since 1996, all labels of the House are translated into Braille. A tribute to Maurice Monier de la Sizeranne, family owned of the parcels of Sizeranne located on Hermitage appellation, inventor of the first version.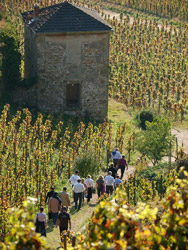 A house prepared to receive win tourism
We offer several ways: visit and tasting, scheduled workshops, customized workshops, seminars for business, holidays wine tourism.
Tour and tasting
Visit the vineyard at the base of the hill of Hermitage in the most prestigious plots of the House followed by a tasting (three tasting menus to choose from) by a consulting sommelier in a private room.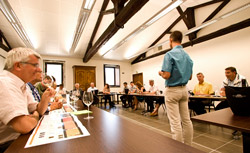 Scheduled workshops to learn different wine in a friendly atmosphere
There are three types:
Discovery workshops

: Friday night twice a month from 18h to 22h: 65 € per person conference room and private tasting followed by dinner "bistronomic" to the host table M. Chapoutier (3 meals / 3 wines);

Workshops of the month

: Saturday once a month from 10h to 16h: 130 € per person conference room and private tasting followed by lunch food and wine at the table d'hote M. Chapoutier (4 courses / 4 wines), then visiting the vineyard of Hermitage;

Workshops Great Wines

: 3 dates in the year from 10h to 17h: 205 € to 253 € per person. Conference room and private tasting followed by lunch food and wine at the table d'hote M. Chapoutier (5 dishes / 5 wines), then the visit of the Hermitage vineyards completed by a final tasting at the end of the day.
Each workshop covers a specific theme (type wine and truffles, wine and cheese, Rhone and Jura, blind tasting, etc..). It's a sommelier of our team that drives our workshops and for some we use in addition to a dedicated speaker (Safranier, snail farmer, geologist, etc.)..
Our 2012 program is available on our website : www.chapoutier-ecole.com. You can register or buy a gift certificate directly online or by contacting L'Ecole M. Chapoutier at 00 33 (0)4 75 08 92 51
Customized workshops:
In favor of existing groups, they are supervised by a sommelier of our team and may include a visit to the vineyard, a tasting in a private room, lunch or dinner food and wine pairing, etc..
Business seminars:
Working meetings with (or not) wine tourism prestations.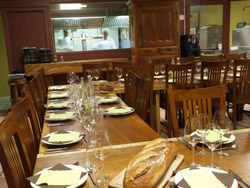 Holidays wine tourism
Customized workshops over several days may include related services: hotel accommodation, lunches or dinners at other restaurants, sightseeing (Valrhona Boutique, Chateau de Tournon, etc..).
All these services are established custom. I invite you to contact me (Contact) for any request for additional information or booking.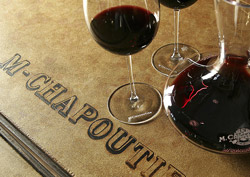 Contact: Maison M. Chapoutier, 18 Avenue du Dr Paul Durand - 26600 Tain l'Hermitage - 00 33 (0)4 75 08 28 65; This email address is being protected from spambots. You need JavaScript enabled to view it. Site web: www.chapoutier.com téléphone: 00 33 (0)4 75 08 92 61; fax: 00 33 (0)4 75 08 96 36 our FaceBook page: Maison M.Chapoutier