Loire Atlantique, AOC Muscadet Côtes de Grandlieu sur lie, Domaine des Herbauges. Wine tourism in Loire-Atlantique is very pleasant in all seasons. At about twenty miles from Nantes, come and discover this very original wine category: the Muscadet Côtes de Grandlieu sur lie, a french AOC located in the triangle: Le Lac de Grandlieu (lake), the Loire River and the Atlantic Ocean.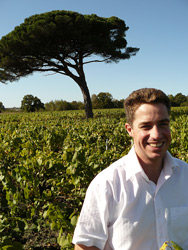 Since 1935 four generations answered the call of the noble vocation of winemaker. Now it is Jerome Choblet who succeeds his father Luc in managing the family estate. Located at the western end of the Loire Valley, protected by the Loire estuary and the Atlantic Ocean, the vineyard extends over 75 hectares by the shores of "Lac de GrandLieu": the largest lake plain of France. This location offers a temperate oceanic micro-climate, ideal for the Melon de Bourgogne grape.In addition to its original winemaking techniques, this domain prepares many surprises for all lovers of wine tourism. ((Coordonnées)
Click on pictures to enlarge.
Ageing "on lees" of our Muscadet Côtes de Grandlieu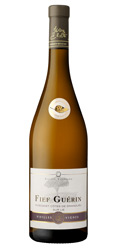 Muscadet Côtes de GrandLieu (dry white wines) are well-structured and full-flavoured with floral and ripe white fruit aromas. The crystalline rock subsoil southwest of Nantes imparts a crisp mineral note, typical of this appellation. Why Muscadet Côtes de Grandlieu sur lie can benefit from the distinction "Sur Lie" ("on lees")? At the beginning of the 20th century, winemakers from Nantes were used to keep the best barrel of the harvest to celebrate major family events. Preserved without racking, this "wedding barrel" gave the wines a unique character. They were fresher in the mouth and gave a fuller bouquet. The Muscadet Côtes de Grandlieu « Sur Lie » were born.
Healthy vineyard and vinifications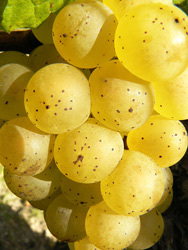 To be respectful of the environment has always been a motivating factor. For the fourth generation, Jerome Choblet has the desire to leave something sustainable for generations to come. His father Luc has chosen over 30 years ago to turn to environmentally friendly agricultural practices; his principles and initiatives are preserved by Jerome. The vineyard is qualified under sustainable agriculture since 2008.As in the vineyard, we conduct as naturally as possible our winemakings. All these methods are fruitful : actually for several years, our production has been obtained without sugar or chemical stabilization.
Elegant wines, « 100% on fruit » vinified
We harvest at the optimal ripeness of the grapes, to get a very good aromas concentration. Then, the grapes are gently pressed in pneumatic presses. The juice is then cleared and is kept cold – a cold stabilization which brings more flavours and aromas. After fermentation in glass-lined underground vats, the wines are then left to ageing during 10 months on their lees until bottling; a technique that encourages the full expression of each wine's terroir, marking the single plot of vines with depth, concentration and fruit.
Click on pictures to enlarge.
Awards
Guide Hachette des Vins, Concours Général Agricole de Paris, Robert Parker, Wine Spectator, Vinalies Nationales, Challenge International du Vin Blaye, etc… Each year our wines are rewarded : medals, selection in the guides... For more details visit our page Awards
Wine tourism with Domaine des Herbauges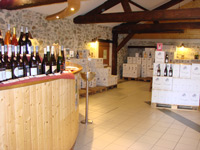 We receive groups of minimum 8 people till 40 people maximum (5€/p. free for -12 years old) : visit of the vineyard, cellars and tasting in our cellar, from Tuesday till Friday, by appointment only.
Free tasting for the individuals from Tuesday till Saturday.
Opening hours: see our website.
2 weekends "tasting" in our cellar 8-9 and 15-16 December 2012 (Saturday day and Sunday afternoon)

We welcome our customers and all wine lovers, two weekends before Christmas for a great tasting Fireside, come and discover all the range of Muscadet Côtes de Grandlieu "sur lie" and vins de pays du Val de Loire, and wines from nice French AOC as well. Dates are on www.domaine-des-herbauges.com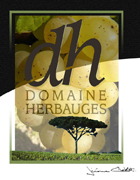 Contact: Domaine des Herbauges, Les Herbauges, 44830 BOUAYE, France.This email address is being protected from spambots. You need JavaScript enabled to view it..

Website: www.domaine-des-herbauges.com phone: +33 (0)2 40 65 44 92 fax: +33 (0)2 40 65 58 02

{jacomment on}