06 August 2012
Last Updated: 18 July 2013
Isabelle Guichard et Muriel Richard
Hits: 11882
Côtes du Rhône Villages, Massif d'Uchaux: winemakers go beyond even these cultural practices of sustainable development and work according to the requirements of biodynamic viticulture. For wine tourism it's an opportunity to discover a new understanding of our world of wine.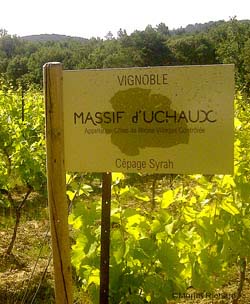 At the heart of the appellation of southern Côtes du Rhône, in the extreme north of Vaucluse flourishes a wine entity of nearly 600 hectares classified : Massif d'Uchaux, Côtes du Rhône Villages. It is characterized by the presence of calcareous sandstone, sand and sandstone typical of the second half of the Cretaceous. This is a unique geological entity in the Cotes du Rhone. The winegrowers Uchaux Massif are faithful to the ethos of the AOC: they cultivate the vineyard with respect for the land and seek to give each vintage freely express all his natural essence, a core value common to each winegrower. Wine lovers will discover an AOC where dominate organic viticulture and biodynamic (Contact).
Click on the pictures to enlarge.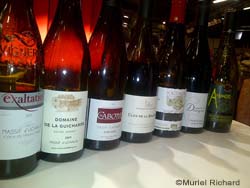 Production certified organic and / or biodynamic
At the heart of this forest massif, biodiversity surprising, favorite field of study of the nineteenth century entomologist Jean-Henri Fabre, a handful of growers cultivating vines. It occurs sparingly: the average yield of 7 years is less than 30 hl / ha. Therefore no place for intensive cultivation. The majority of plots assigned to the cultivation of the vine is logically driving in Organic Agriculture, to preserve this protected environment for a while yet. Nearly 70% of parcels are AB or in conversion to organic farming. But some winemakers go beyond even those cultural practices that respect the environment and work their vineyards according to the specifications of the biodynamic viticulture.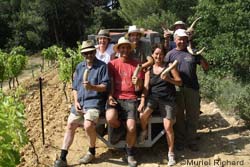 Experience the culture biodynamic
It is not here to engage in a laborious presentation of biodynamics, a recent agriculture, theorized by Rudolf Steiner in lectures delivered in 1924 and compiled in the famous Cours for farmers
But maybe give some explanations to why, Eric and Marie-Pierre Plumet from Domaine La Cabotte, Jean-Pierre Serguier from Château Simian and, Isabelle and Arnaud Guichard from Domaine de la Guicharde can be found at the end of the afternoon of June to dig a pit with enthusiasm and extract horns filled with a compost extremely valuable!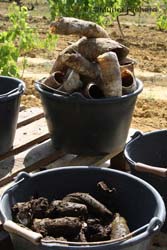 Preparation 500 - Cow Horn Manure
Known as cow horn manure, preparation 500 is basically fermented cow dung, this compost sprayed on the ground is a powerful builder of soil structure, encourages microbial activity, regulates the pH of the soil by increasing the one of acid soils and reducing that of alkaline soils. It stimulates overall growth of the root system and particularly its development towards the vertical depth. None better than Francois Bouchet in his book Biodynamic Agriculture [1] can best summarize the attractions of this preparation (original text in French) : « It is a wonder, this horn manure ! It is that which will change the wines. In two or three years the land plot reappears and all soil surveys show a strong increase in density and root depth. » [1] François BOUCHET, Cinquante ans de pratique et d'enseignement de l'agriculture biodynamique. Comment l'appliquer dans la vigne. Deux Versants éditeur, Paris, 2003
Use the preparation while the soil inspires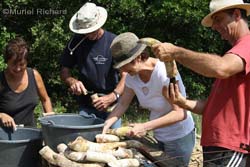 More concretely, the horns have been filled with fresh dung at the end of last October. Late June, following the lunar calendar and planetary, to a specific date, when one is faced with the constellation Virgo, in root day, the horns have been unearthed. Dung has become a dark brown compost, which will wait another few months in the shade, before being used in the vineyard.At the end of winter, when the earth is warming, It is mixed into a vat with water and stirred for one hour. This is what is called dynamization. The preparation is then applied in the vineyard with a sprayer, late in the day as close to sunset when the earth inspires.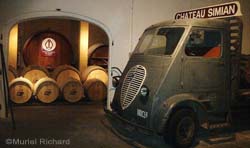 Oenotourisme au Massif d'Uchaux
Greek, Roman and Church (Papal Palace) have shaped the Rhone valley and left behind numerous monuments that make the Uchaux Massif suitable for wine tourisme.
Many domains have activities for wine lovers but we can not list them all here. We urge you to consult the press file very complete to discover the details of this title. There appears particularly "GOURMET TABLES OF MASSIF UCHAUX" and "THE BEST BED & BREAKFAST" which are a must if you come visit them.
GOURMET TABLES OF MASSIF D'UCHAUX
La Beaugravière

, RN 7 - 84430 MONDRAGON, Tél : 04 90 40 81 54, Email :

This email address is being protected from spambots. You need JavaScript enabled to view it.

, www.beaugraviere.com;

Le Temps de Vivre

, Hameau des Farjons, 84100 UCHAUX, Tél : 04 90 40 66 00;

Les Acacias

, 84100 UCHAUX, Tél : 06 10 77 88 85;

Au Comptoir

, bistrot et vins, Karine et Cyril, 13 Avenue de Provence, 84420 PIOLENC, 04 86 71 67 81;

Côté Sud

, Route d'Orange, 84100 UCHAUX, 04 90 40 66 08, www.restaurantcotesud.com;

Le Pré du Moulin

, 84830 SÉRIGNAN DU COMTAT, 04 90 70 14 55, Email :

This email address is being protected from spambots. You need JavaScript enabled to view it.

, www.predumoulin.com.
THE BEST BED & BREAKFAST FROM MASSIF D'UCHAUX

Massif d'Uchaux - Vallée du Rhône - France; This email address is being protected from spambots. You need JavaScript enabled to view it. Website: www.massifduchaux our FaceBook page: Aoc Massif D' Uchaux