Mediterranean: a very old domain that will appeal to many wine tourists, and history enthusiasts.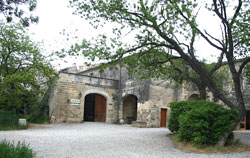 Located in the town of Saint-Christol (Hérault), the cellar of DOMAINE GUINAND was originally developed by the Order of Saint Jean of Jerusalem in 1193. For the wine tourism this area is rich in quality initiatives and shown a genuine willingness to respect the environment. The famous and distinctive wines should prompt you to come and discover (Contact).
Quality and sustainable development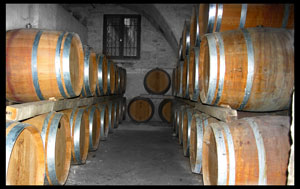 Our Domain is committed to practicing sustainable viticulture through the Reasoned Agriculture. We respect the specifications evolutionary Terra Vitis, and ensure the traceability of our daily observations and interventions in the vineyards and the cellar. We take care of all the players in our environment: man, soil, plants,landscapes, flora and fauna.
Even more for the environment
We begin to implement the Eco Attitude: all elements of packaging are environmentally friendly: lightweight glass bottle, caps from sustainably managed forests, labels andcartons from recycling. In addition, since January, the roof of the cellar is equipped with photovoltaic panels.
Visits and events at Domaine Guinand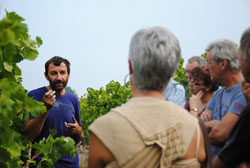 We invite you to visit us through our scheduled visits. In order to always satisfy you, our wines and our field are constantly changing and the recent award of quality labels andquality Herault South of France are there to comfort us in this direction.
The cellar will soon admire the creations of our clients: painting, photography, sculpture, embroidery, sculpture and weaving. You will learn more about the page of the Domain Guinand's Events.
Wine tourism and Herault Quality's Label
The wine tourists are always well received and the quality of our services have recentlybeen awarded with the Herault Quality's Label :
Network members' Relay Vigneron Tourism in Languedoc-Roussillon ";
Free tasting proposed and commented, with descriptions and tips;
Sales area of quality and well designed;
Welcome by winemakers anxious to share their passion for wine,
Opportunity to visit the domain or cellars.
Contact : www.domaineguinand.com or : 00-33-(0)4-67-86-85-55; 36, Rue de l'épargne - 34400 SAINT-CHRISTOL; This email address is being protected from spambots. You need JavaScript enabled to view it.