Un moyen simple de connaitre le sérieux d'un viticulteur est de savoir s'il passe du temps dans sa vigne. S'il parcoure les rangs uniquement à dos de tracteur et qu'en plus il ne vérifie pas la taille, comment voulez vous qu'il améliore la qualité ?
Passer du temps dans son vignoble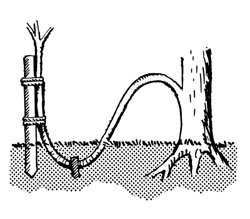 Utiliser la technique du marcottage pour remplacer les ceps morts n'est pas un bon moyens d'économiser de l'argent. Par contre, les viticulteurs qui utlisent cette technique sont des passionnés et des personnes qui œuvreront toujours pour la qualité.
Le marcottage est aussi appelé provignage. Sur les photos suivantes le viticulteur utilise le marcottage par couchage (ou en archet) qui est utilisé pour les plantes avec des rameaux flexibles.
Take the time to do the marcotting means that the winemaker is happy with the results of these stocks and it will not replace them with others. This implies that he spends much time on his vineyard and not just on the tractor
Denis and son in law Jerome are conscientious winegrowers and I thank them for their explanations contained in these videos: :


If you find a winegrower that spends as much time in his vineyard, the quality will be to the appointment.