Observation: the power of diviners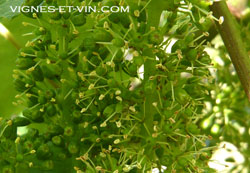 How do you know in advance the amount of harvest? Simply by observing weather at flowering time. Clouds or rain during flowering inflorescences do not allow to develop properly. There will be fewer berries per cluster. The number of clusters is also determined by the weather during the weeks preceding the output clusters. But this is not an easy observation to make.
For us, a small number of berries per cluster is synonymous with quality: the vines give quality more easily when they have little grape berries to feed. Conversely, very sunny conditions during flowering will allow the flowers to grow in grape berries, so a large potential harvest. It should, however, modulate these claims. If the vine has few berries they tend to become larger so the weight of the crop will be slightly increased. On the contrary, when there are many berries they are generally smaller.
At each vineyard's own weather
Predictive models of growth are developed by relating the data of weather stations installed on the same vineyard with quantitative data of this vineyard. It is tempting to use these models at the departmental level to provide advice to growers. However, models that are very established locally lose much of their reliability at the departmental level. This is exactly what many institutes offer thus giving dates for phytosanitary treatments. This advice is so general that they no longer have any practical application.
See if the winemaker has a weather station on the vineyards, to determine itself its treatment dates or harvest, this is a great asset to the quality.