Champagne Boude Baudin: a basement of fossilized shells, the terroir effect has never been more important.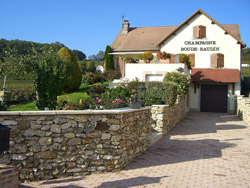 Nestled in the Marne Valley, the Champagnes Boude Baudin have a terroir in the basement of fossilized shells out of the ordinary. Combining Tradition and Advanced Technology, Boude Baudin family develops its champagnes with great attention, surrounding himself with men and the most powerful tools of the time to make you taste very large exceptional vintages. (Contact)
Click on pictures to enlarge.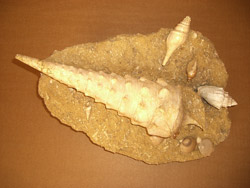 An exceptional terroir
A basement made of shells Campanils Giganteum in the state of fossils in a calcareous sand deposited by a tropical sea there are 45 million years. This substrate allows the Chardonnay develop flavors exceptional. This gives a minerality and exceptional quality champagnes.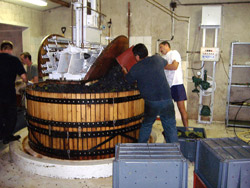 Traditional methods allied to respect of the environment
Home Boude Baudin uses traditional working methods: traditional wooden wine presses, "dégorgement à la volée" (not ice, it's a traditionnal way very rare: example). In addition, the vineyard is cultivated according to the standards of reasoned vine growing (grassing). The values of sustainable development are not forgotten since recycles waste of grapes after pressing (cosmetics, animal feed and fertilizer).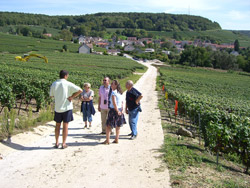 Everything is provided for wine tourism
Everything is made to welcome wine tourists.
Half-day discovery
This is quite simply that we welcome you to the vineyard from 14h to 17h to share this exciting profession of ours. Labors from the vineyards to the cellar, you will learn to better appreciate the Champagne. A tasting of two vintages punctuates this program. All details in this document HALF-DAY DISCOVERY.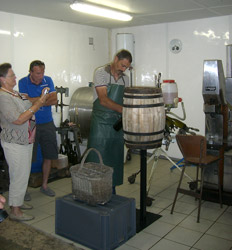 Le Refuge des Vendanges

: a gite for wine tourism

It is now available, with a large capacity a short walk from exploitation and allows a few days to live in a rustic and authentic! Visit wineries, tastings and sales of champagne. Petanque playing. Giant barbecue for evenings countryside. Hiking nearby. Beautiful bike rides for fans of hillsides. Pool and railway station at 12 kms, shops from June to December kms, TGV at 20 kms. More information on PRICE OF GITE, there are a few pictures, just after our contact information at the bottom of page.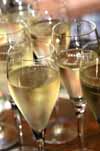 Nos champagnes:
Many champagnes may suit your tastes see our range CHAMPAGNE BOUDE BAUDIN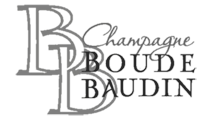 Contact: Champagne Boude Baudin, 12 rue des Gouttes d'Or - 51480 Cormoyeux - France; This email address is being protected from spambots. You need JavaScript enabled to view it.. Web site: champboudebaudin.skyrock.com phone: 00 33 (0)3 26 58 65 02 our FaceBook page: Champagne Boude-Baudin