The Cornas Appellation in the Rhône: any wine-loving tourist who wants to discover the full potential of wines made from the Syrah grape must be sure to visit this area, the birthplace of Syrah.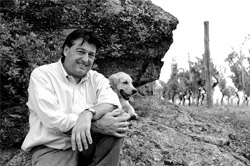 Situated on the right bank of the Rhône River in the Cornas appellation, the wines of Jean-Luc Colombo can help you understand the depth and breadth of Syrah when it has reached its full potential. Steep hillsides with southern exposures form natural amphitheatres which protect the vines from the chilling winds. The vines cultivated on terraces and along the sides of steep hills create a magnificent landscape which is certain to charm any lover of wine. (Contact).
Click on the pictures to enlarge.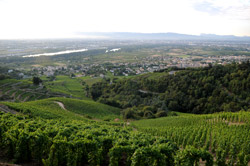 Beyond the Specifications of the Cornas Appellation
The vineyards of Jean-Luc Colombo winery are planted on very steep slopes. They require a great deal of specific knowledge about manual vineyard management, as mechanical assistance is almost impossible due to the steepness of the hillsides. These old Syrah vines push their roots deep into the granitic soil above the village of Cornas.
Wine connoisseurs will appreciate the organic agricultural methods and sustainable development standards: bark mulch, pest control, pollution management, and preservation of biodiversity.
Organic Management of the Vineyards of Jean-Luc Colombo in Cornas
Jean-Luc Colombo and his family live in the heart of their hillside vineyards in Cornas and consider it a point of honour to cultivate and maintain their vineyards with respect for their environment. They want to preserve the natural biodiversity of Cornas and promote the indigenous flora and fauna. Since 2012, Domaine Colombo is committed to attaining ECOCERT certification attesting to their organic agriculture. The official certification will be effective for the 2015 vintage..
Management of the soils according to the specificity of each vineyard: mulch, mowing, working the soil, grass, no irrigation;
Biodiversity and countryside Management: preservation and planting of local varieties, Manual maintenance of embankments and walls, working the green vegetation, prophylactic actions, organically-certified products;
no pesticides are used.

Jean-Luc Colombo's appreciation for the natural environment of living creatures creates an atmosphere in which insects, animals and grapevines co-exist and flourish. This can only be accomplished with organic vineyard practices where no harsh pesticides are used. Curious wine lovers can consult this document Organic Management for more informations.

Wine Tourism at Domaine Jean-Luc Colombo

As you can see from the photos on this page, the terraced vineyards are quite beautiful. They produce exceptional wines.

Please join us for a visit and tasting (French, English, Spanish)

To uncover the secrets of our vineyards, we offer a tour by Range Rover (maximum of 8 persons) through the slopes of Cornas (1 hour), followed by a wine tasting in our Cornas tasting room (1 hour). Advance reservations are required.(Contact)

Starting July 7th, our tasting room will be open 7 days a week, from 10ham to 1h30 pm and 2h30pm to 6h30 pm. For visits outside our normal hours, please call ahead or email to make arrangements (+33 4 75 84 17 10, This email address is being protected from spambots. You need JavaScript enabled to view it.).

Contact: Vins Jean-Luc Colombo, 10-12 rue des violettes - 07130 Cornas - France; This email address is being protected from spambots. You need JavaScript enabled to view it.. Web site: www.vinscolombo.fr téléphone: 00 33 (0)4 75 84 17 10 our FaceBook page: Jean-Luc Colombo et Twitter: @vinscolombo