Increasingly, wine lovers hear about the terroir effect. But no one tells them just what it is. In fact this notion is not clear for everyone. There is also an unwillingness to clearly explain this notion. because many wine experts are also ambassadors of oenological brands of wine products: use of products of the wine industry does not promote the terroir effect. The following lines will give a clear explanation of what is called the terroir effect
A few words of explanation on the terroir
Understand what it is the word terroir is not easy. People think about what defines the best for them, a growing area. For example, to the south of France terroir is synonymous with sun; They do not really think about the soil or the grape varieties. For the Bordeaux region, the "Graves" are the main feature (Graves means a pebbled soil). In Champagne, we retain only the chalky subsoil. In fact, it is not false, but that's just part of what should be considered.
Working methods, the choice of vine varieties, the mode of conduct (pruning), the different types of winemaking and climate, also define a terroir.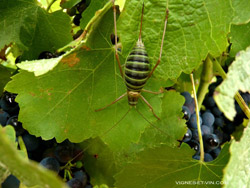 Let a parallel with the breeding of animals: everyone understands that the quality and taste of an animal (chicken, beef etc..) is highly dependent on what they eat and their breeding conditions.
For the vine it is the same thing. The soil is its food, but this is not enough. More a vineyard become aged and more the flavors of grapes will characterize the conditions for vine growth. But for this it must encourage wine growers to uniqueness of place, avoiding the standardization of working methods.
Vineyard
In general, a vineyard must not allow the overgrowth of an organism (plant, insect, bacteria / virus, fungus). Everything must be in balance, each regulating the growth of other (chemicals perturb this balance). The microclimate created by the foliage and the arrangement of clusters should not favor moisture. This will avoid the abusive application of chemicals insecticide / fungicide. The soil contains many organisms that must live in balance. This promotes the availabilty of mineral and water for the vines. All of this allows the appearance of characteristic elements of the growth zone.
Winemaking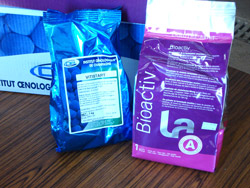 If you bothered to promote in your vineyard the terroir effect it is now necessary to make it appear in the taste and texture of your wines. Therefore, no standardized dry yeasts or activators of fermentations. These products are expensive and more efficient every year (thus more expensive) than the year before. No! to promote the terroir effect we must add the less possible products of the oenological industry. But it is not obvious to refuse them when you start working. Indeed, these products avoid the problems of fermentation, and when you are new to the profession, it reassures you. After a few years winemakers take the risk of fermentation without addition of oenological products.
Climate
The climate also called vintage effect contributes enormously to the quality of wine. With the ground, it will cause the selection of grapes varieties and rootstocks for the vine flourishes best in the climate of the region.
No parameters dominate in the terroir effect, it is the interaction of all these parameters that create a unique taste. Useless to try to export certain conditions to find the flavors of a local product: by definition the terroir provides a unique taste that must be kept ABSOLUTELY.