There are international varieties (Chardonnay, Merlot, etc..) But also excellent varieties that are better adapted to certain regions of the world. An opportunity to discover new flavors. Here the Cabernet Severnyi variety from CARONE Wines Vineyards: Lanoraie, Québec (40 minutes north-east from Montréal beside the St. Laurent river).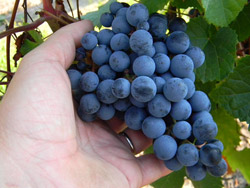 Cabernet Severnyi
CARONE is the first and only producer of the Cabernet Severnyi grape in Quebec. Originally from Eastern Europe, Cabernet Severnyi is a grape variety that can withstand cold climates and produces an intensely flavoured medium bodied red wine. Our Cabernet Severnyi was selected as the official red wine for the royal visit of Prince William and Catherine in Montreal on July 2, 2011.
Harvest methods for Cabernet Severnyi at Carone Wines Vineyards
You need a lot of care to benefit from its flavor.
Manual harvest, sorted by hand, destemmed, crushed gently, cold soak for 24 - 48 hours, fermentation at controlled temperatures and prolonged maceration on the skins.
Contact: CARONE Wines, 75, rue Roy, Lanoraie (Qc) J0K 1E0 ; This email address is being protected from spambots. You need JavaScript enabled to view it..
Official website: www.carone.ca
phone: +1 450 887 2728 mobile: +1 514 814 3034 our FaceBook page: Vignoble CARONE Wines Twitter: @CaroneWinesGoogle+: CARONE.